Add kitchen accessories without a full remodel
If you don't have the luxury (or the time) to fully remodel your kitchen, you can still add great kitchen accessories and make it more efficient. Use these cabinet accessories to maximize storage and stay more organized.
If you didn't get the chance when your kitchen was originally built, now is the ideal time to get everything you were wishing for and missed out on.
We have access to all the latest kitchen accessories, including Rev-a-Shelf. Which ones are your favorites? Let us show you how easy it is to install them in your current kitchen.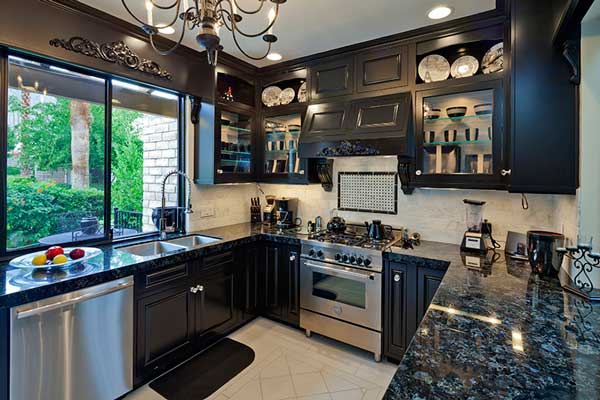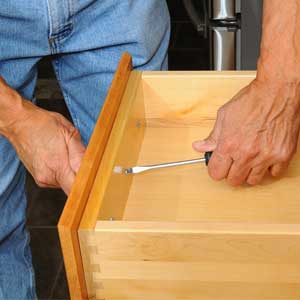 Change kitchen cabinet handles and knobs
Get your kitchen an instant update with new handles or knobs. This is one of the easiest and quickest ways to give your an updated look.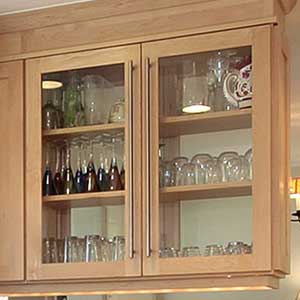 Add glass to your cabinet doors
Add glass inserts to your current cabinet doors, without a total door replacement.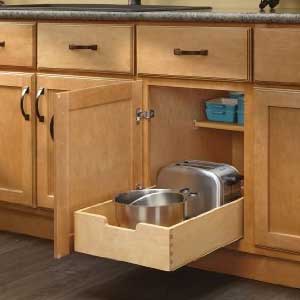 Add roll out shelves
Make it easy to reach your entire cabinet by adding new roll out shelves.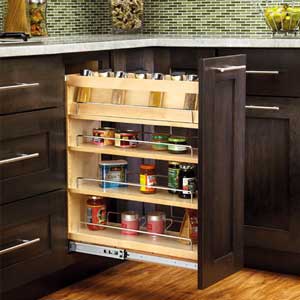 Organizers & storage accessories
Pull outs, slide outs, and cabinet organizers of all kinds.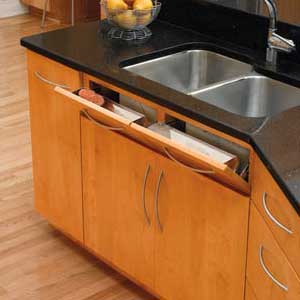 Tip out tray
Keep those kitchen sponges out of sight with with this clever tilt out tray.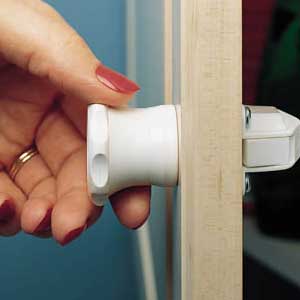 Child proof locks
Protect your children and your cabinet contents with child proof locks. Locks are installed on the inside of the cabinet and only the special magnetic key opens each of the locks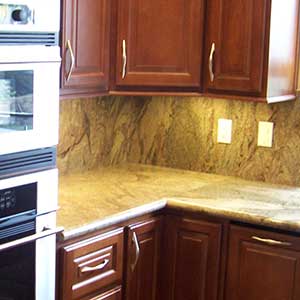 Under cabinet lighting
Brighten up your kitchen and get built in task lighting.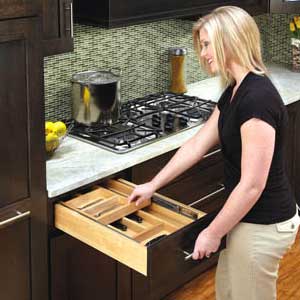 Replace broken drawers
When you need more than a minor repair, we can install new drawer boxes and glides.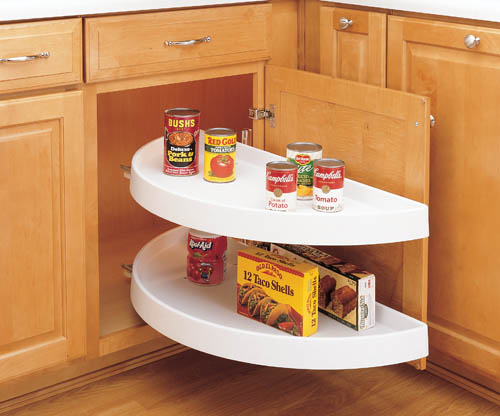 Add a lazy susan to corner cabinets
Get easy access to the back of hard to reach cabinets.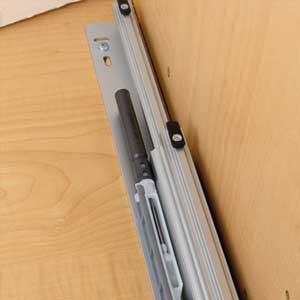 Add soft close feature
Cabinet doors close easily and without banging.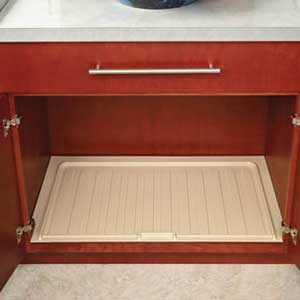 Protective mats
Your first defense against cabinet damage.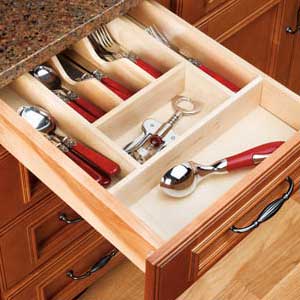 Add a cutlery organizer to your drawer
Easily organize kitchen drawers.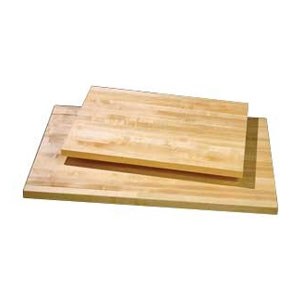 Butcher block counter
Perfect for any kitchen counter or island. Made from solid maple.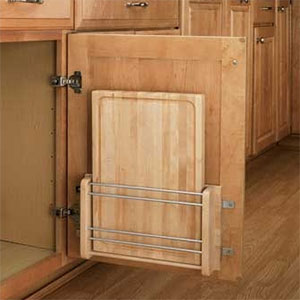 Door mounted wood cutting board
Birch/maple cutting boards stored in door mounted support racks.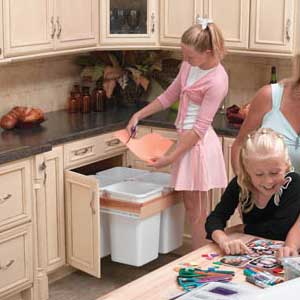 Add a recycle center to your cabinets
Get those recycling bins out of sight, but within reach.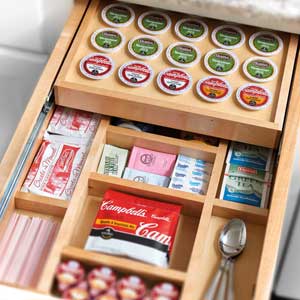 Add a K cup organizer
Store your K cups and see exactly what coffee you'd like to drink.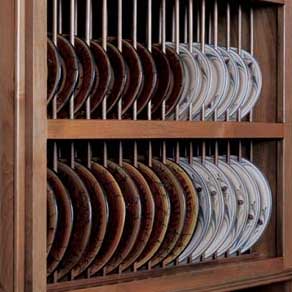 Plate racks
Display your china or heirloom plates. Perfect for a kitchen cabinet nook.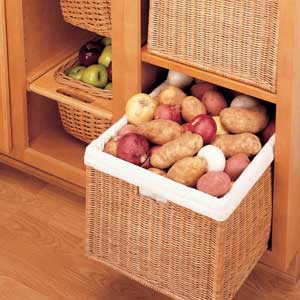 Fruit and vegetable storage
The perfect storage solution for fruits and vegetables.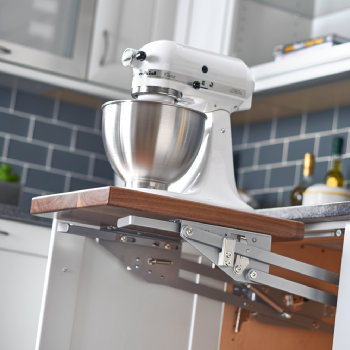 Appliance Lift
Heavy duty mixer lift does the hard lifting so you don't have to, then hides away when not in use. Never lift your heavy mixer by hand again.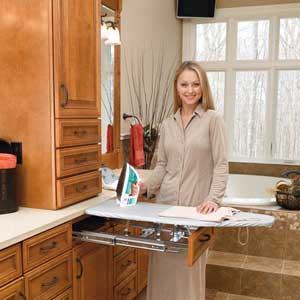 Add a built in ironing board
Ironing boards can be inconvenient. This built in ironing board is easy to pull out and use whenever you need it.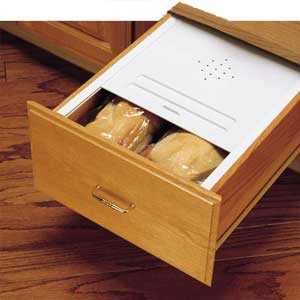 Add a bread drawer
Store your bread in a bread drawer.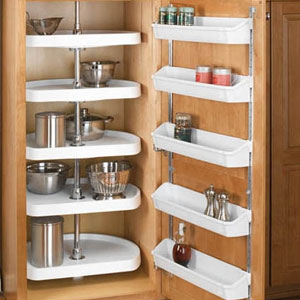 Built in door storage
Expand your storage space and organization with door storage in all sizes.
Why replace your cabinets when your kitchen can look 10 years younger for only $599.